Population: 2,93 million (2017)
Area: 29 743 km²
Capital City: Yerevan

About Armenia

Armenia, officially the Republic of Armenia, is a country in the South Caucasus region of Eurasia. Located in Western Asia on the Armenian Highlands, it is bordered by Turkey to the west, Georgia to the north, the de facto independent Republic of Artsakh and Azerbaijan to the east, and Iran and Azerbaijan's exclave of Nakhchivan to the south.

Armenia is a nation, and former Soviet republic, in the mountainous Caucasus region between Asia and Europe. Among the earliest Christian civilizations, it's defined by religious sites including the Greco-Roman Temple of Garni and 4th-century Etchmiadzin Cathedral, headquarters of the Armenian Church. Khor Virap Monastery is a pilgrimage site near Mount Ararat, a dormant volcano just across the border in Turkey.

Currency
The Armenian Dram is the currency of Armenia. The currency code for Drams is AMD, and the currency symbol is AMD.

Climate


The climate in Armenia is markedly highland continental. Summers are hot, dry and sunny, lasting from June to mid-September. The temperature fluctuates between 22 and 36 °C (72 and 97 °F). However, the low humidity level mitigates the effect of high temperatures. Evening breezes blowing down the mountains provide a welcome refreshing and cooling effect. Springs are short, while autumns are long. Autumns are known for their vibrant and colourful foliage.
Winters are quite cold with plenty of snow, with temperatures ranging between −10 and −5 °C (14 and 23 °F). Winter sports enthusiasts enjoy skiing down the hills of Tsakhkadzor, located thirty minutes outside Yerevan. Lake Sevan, nestled up in the Armenian highlands, is the second largest lake in the world relative to its altitude, at 1,900 metres (6,234 ft) above sea level.

Language

Armenian is the only official language. The main foreign languages that Armenians know are Russian and English. Due to its Soviet past, most of the old population can speak Russian quite well. According to a 2013 survey, 95% of Armenians said they had some knowledge of Russian (24% advanced, 59% intermediate) compared to 40% who said they knew some English (4% advanced, 16% intermediate and 20% beginner). However, more adults (50%) think that English should be taught in public secondary schools than those who prefer Russian (44%).

Economy

The economy relies heavily on investment and support from Armenians abroad. Before independence, Armenia's economy was largely industry-based – chemicals, electronics, machinery, processed food, synthetic rubber, and textile – and highly dependent on outside resources. The republic had developed a modern industrial sector, supplying machine tools, textiles, and other manufactured goods to sister republics in exchange for raw materials and energy. Recently, the Intel Corporation agreed to open a research centre in Armenia, in addition to other technology companies, signalling the growth of the technology industry in Armenia.
Agriculture accounted for less than 20% of both net material product and total employment before the dissolution of the Soviet Union in 1991. After independence, the importance of agriculture in the economy increased markedly, its share at the end of the 1990s rising to more than 30% of GDP and more than 40% of total employment. This increase in the importance of agriculture was attributable to food security needs of the population in the face of uncertainty during the first phases of transition and the collapse of the non-agricultural sectors of the economy in the early 1990s. As the economic situation stabilised and growth resumed, the share of agriculture in GDP dropped to slightly over 20% (2006 data), although the share of agriculture in employment remained more than 40%.

A liberal foreign investment law was approved in June 1994, and a law on privatization was adopted in 1997, as well as a program of state property privatization. Continued progress will depend on the ability of the government to strengthen its macroeconomic management, including increasing revenue collection, improving the investment climate, and making strides against corruption. However, unemployment, which was 18.5% in 2015, still remains a major problem due to the influx of thousands of refugees from the Karabakh conflict.
Armenia ranks 47th on Doing Business Index in 2018 with 13th rank on "starting business" sub-index.
Armenia ranked 83rd on the 2018 UNDP Human Development Index (with 2017 data) and is classified into "high human development" group.
In the 2015 Transparency International Corruption Perceptions Index (CPI), Armenia ranked 95 of 168 countries.
In the 2016 Index of Economic Freedom, Armenia ranked 54th, ahead of countries like France, Portugal and Italy.

Religion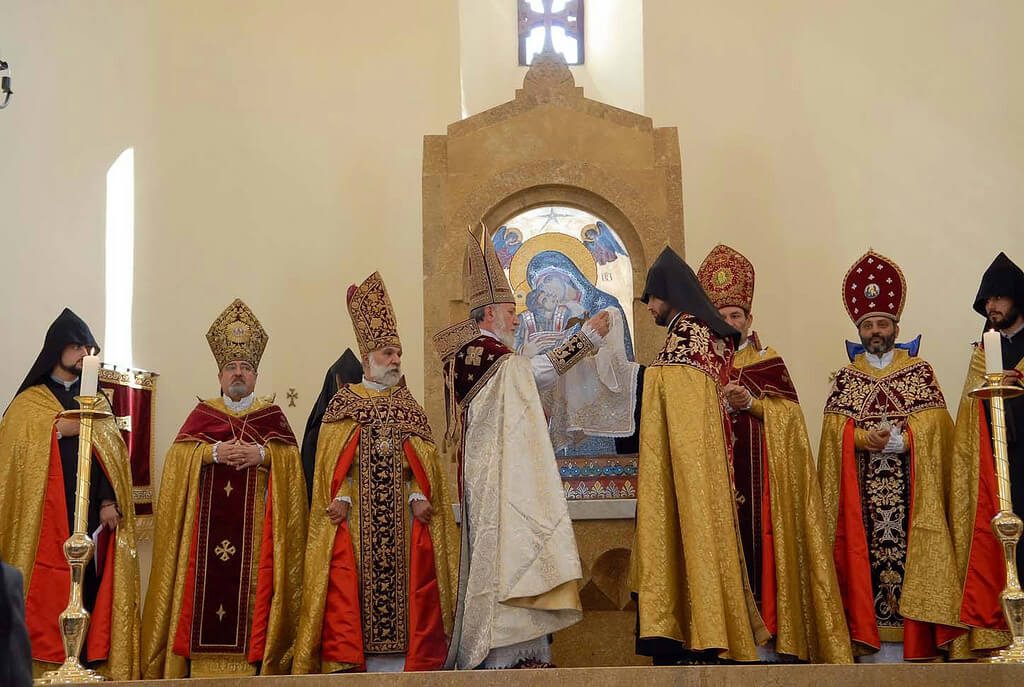 Armenia was the first nation to adopt Christianity as a state religion, an event traditionally dated to AD 301.
The predominant religion in Armenia is Christianity. The roots of the Armenian Church go back to the 1st century. According to tradition, the Armenian Church was founded by two of Jesus' twelve apostles – Thaddaeus and Bartholomew – who preached Christianity in Armenia between AD 40–60. Because of these two founding apostles, the official name of the Armenian Church is Armenian Apostolic Church.
Over 93% of Armenian Christians belong to the Armenian Apostolic Church, a form of Oriental (Non-Chalcedonian) Orthodoxy, which is a very ritualistic, conservative church, roughly comparable to the Coptic and Syriac churches The Armenian Apostolic Church is in communion only with a group of churches within Oriental Orthodoxy.
The Armenian Evangelical Church has a very sizeable and favourable presence among the life of Armenians with over several thousand members throughout the country. It traces its roots back to 1846 which was under patronage of the Armenian Patriarchate of Constantinople the aim of which was to train qualified clergy for the Armenian Apostolic Church.
Other Christian denominations practising faith based on Nicene Creed in Armenia are the Pentecostal branches of Protestant community such as the Word of Life, the Armenian Brotherhood Church, the Baptists which are known as of the oldest existing denominations in Armenia and were permitted by the authorities of Soviet Union, and Presbyterians.

Catholics also exist in Armenia, both Latin rite and Armenian rite Catholics. The Mechitarists (also spelled "Mekhitarists" Armenian: Մխիթարեան), are a congregation of Benedictine monks of the Armenian Catholic Church founded in 1712 by Mekhitar of Sebaste. They are best known for their series of scholarly publications of ancient Armenian versions of otherwise lost ancient Greek texts.

The Armenian Catholic denomination is headquartered in Bzoummar, Lebanon.
Armenia is home to a Russian community of Molokans which practice a form of Spiritual Christianity originated from the Russian Orthodox Church.
The Yazidis, who live in the western part of the country, practice Yazidism. As of 2016, the world's largest Yazidi temple is under construction in the small village of Aknalish. There are also Kurds who practice Sunni Islam.
There is a Jewish community in Armenia diminished to 750 persons since independence with most emigrants leaving for Israel. There are currently two synagogues in Armenia – in the capital, Yerevan, and in the city of Sevan located near Lake Sevan.

Culture


Armenians have their own distinctive alphabet and language. The alphabet was invented in AD 405 by Mesrop Mashtots and consists of thirty-nine letters, three of which were added during the Cilician period. 96% of the people in the country speak Armenian, while 75.8% of the population additionally speaks Russian, although English is becoming increasingly popular.

Cuisine

Armenian cuisine is closely related to eastern and Mediterranean cuisine; various spices, vegetables, fish, and fruits combine to present unique dishes. The main characteristics of Armenian cuisine are a reliance on the quality of the ingredients rather than heavily spicing food, the use of herbs, the use of wheat in a variety of forms, of legumes, nuts, and fruit (as a main ingredient as well as to sour food), and the stuffing of a wide variety of leaves.
The pomegranate, with its symbolic association with fertility, represents that nation. The apricot is the national fruit.

Government and politics

Politics of Armenia takes place in a framework of representative parliamentary democratic republic. Until transition in April 2018 Armenian constitution adhered to the model of semi-presidential republic.
According to the current Constitution of Armenia, the President is the head of state holding largely representational functions, while the Prime Minister is the head of government and exercises executive power.
Legislative power is vested in the unicameral parliament is also called the Azgayin Zhoghov or National Assembly.
Armenia has universal suffrage above the age of eighteen.


.


.